Oh, M.A.S.K. (or just MASK if you're lazy). The middle child between transformers and G.I. Joe, M.A.S.K., or Mobile Armored Strike Kommand, combined transforming vehicles with seriously cool military technology. In its first debut, M.A.S.K. 1985 was a fairly popular series in that it created many pieces of media, from comics to three video games.
What the MASK cartoon is most known for is its five toy lines and corresponding animated TV shows. They are known as the following:
Series One: The original 1985 release, the figures released in this toy line were limited to the main characters of the M.A.S.K. animated show. The figures came with a character figure, a transformable vehicle, and a mask accessory.
Series Two: Released the next year, 1986, this was more of a sequel release as more characters from the TV show were added to the toy line, including Julio Lopez and Bruno Sheppard.
Adventure Packs: This toy line is unique, as it only featured blister packs of single figures with accessories. It also did not correspond to any season of the animated show.
Series Three: Coming out in 1987, the release of these toys were matched with the release of the second season of the TV show, which had a bigger racing element.
Series Four: The longest-running toy line, coming out throughout 1987 and 1988, series four or Split Seconds was a dual based toy line. The vehicles could split in two and each pack came with two action figures: the character and a hologram, or a transparent version of the character.
But in general, M.A.S.K. seemed to fade into the background of bigger hits as time passed… until now.
Talks have come and gone concerning the creation of a M.A.S.K. movie reboot, first in 2015 and again in 2018. The reasons for canceling were vague—after all, who would cancel something as action movie-worthy as a franchise comprised of spies battling each other in mecha-esque vehicles? But as of 2020, there has been new chatter about bringing M.A.S.K. to life on screen, with F. Gary Gray slated to direct the series.
Regardless of potential movie reboots, M.A.S.K. is one franchise that should not be lost to time. Trying to reassemble the pieces of M.A.S.K. characters in your memories? Read on for a comprehensive guide on the characters and vehicles of M.A.S.K.
M.A.S.K. (Mobile Armored Strike Kommand)
Matt "Hunter/Cowboy" Trakker
Apt to his nickname, Matt Trakker is the leader of M.A.S.K. and the primary protagonist of the series. Although he's a multi-millionaire philanthropist, he is also the courageous and enthusiastic leader of M.A.S.K., the company he helped found after his old business partner, Miles Mayhem, killed Matt's brother Andy and went rogue. He has a son named Scott Trakker who is a genius in his own right, having created a robot sidekick named T-Bob.
Bruce "Magic" Sato
Although he's a bit of a caricature, Bruce Sato is certainly "magic"—he's a mechanical engineer who designs toys, fixes vehicles, and navigates caves. He speaks in Confucian aphorisms, something that confuses everyone but Matt Trakker—it's good that Matt understands Bruce, considering that Bruce is his second in command!
Alex "Megabyte" Sector
Alex is a British communications and computer expert who sidelines as a veterinarian and exotic pet store owner. He also has extensive knowledge of valuable metals and other random trivia. His character design is notable for being bald… perhaps that's where his secret to his genius lies?
Dusty "Powderkeg" Hayes
Dusty is incredibly qualified to star in a show concerning crazy races, wild military vehicular tech, and annoying villains because his main gig is a pizza delivery man. He also is a scuba diver, stunt man, and all-around fired up guy. Don't let the wafting smell of marinara distract you! He can throw a punch.
Gloria "Aura" Baker
Because this was the 80s, Gloria Baker is the only female agent in all of M.A.S.K., so you know she had to be damn good to get into the agency in the first place. She teaches Kung-fu and drives race cars for a living. She also got her college degree from Athens, Greece. Plus, she can rock a mullet.
Brad "Chopper" Turner
The celebrity of the agency, Brad is a rock musician who happens to do M.A.S.K. duties on the side. He's also the resident cool guy, his laidback personality an excellent contrast to the hotheaded members of M.A.S.K. Even his mask has sunglasses to ensure that his enemies know exactly which cool cat they're dealing with.
Hondo "Striker" McLean
Have you ever wondered what your high school teachers got up to outside of school? In M.A.S.K., they're secret agents—or at least Hondo McLean is. A history teacher who uses his knowledge to help investigate V.E.N.O.M.'s plans regarding ancient relics or mythical treasures, Hondo McLean has excellent reasons to ditch the classroom. But he's still out there, protecting and teaching the youth of today.
Buddie "Clutch" Hawks
He's more than just the team's mechanic—Buddie Hawks is a master of disguise who can infiltrate anyone and everything, up and including V.E.N.O.M.'s facilities as one of their agents! While his catchphrase is a bit unfortunate—"Penetrator Mask, on!"—he has certainly proved his place on the team as an active M.A.S.K. agent.
Calhoun "Stonewall" Burns
An architect who stumbled into becoming a M.A.S.K. agent, Calhoun is not the oddest member of the agency but certainly a bit of an eccentric. He loves horse breeding and riding and is also a construction and demolition expert. His involvement with the constant cycle of death and life, building and breeding and riding and destroying, make him a formidable agent to face on the field.
Jacques "Trailblazer" LeFleur
One of M.A.S.K.'s foreign agents, Jacques LeFleur speaks with a French accent as thick as his name. Based in Canada, when he's not off doing missions with the team he's working in harsh terrain as a lumberjack. His exposure to Canada's coldest tundra has made him one of the bravest and toughest agents in the field.
Julio "Doc" Lopez
A bonafide Ph.D. certified medic, Julio is also an expert in cryptography and foreign languages. He doesn't just stay on base, however, and stitch up the injured after the fighting is over—Julio is just as competent as any other active M.A.S.K. agent on the field and his enemies know it.
Ace "Falcon" Riker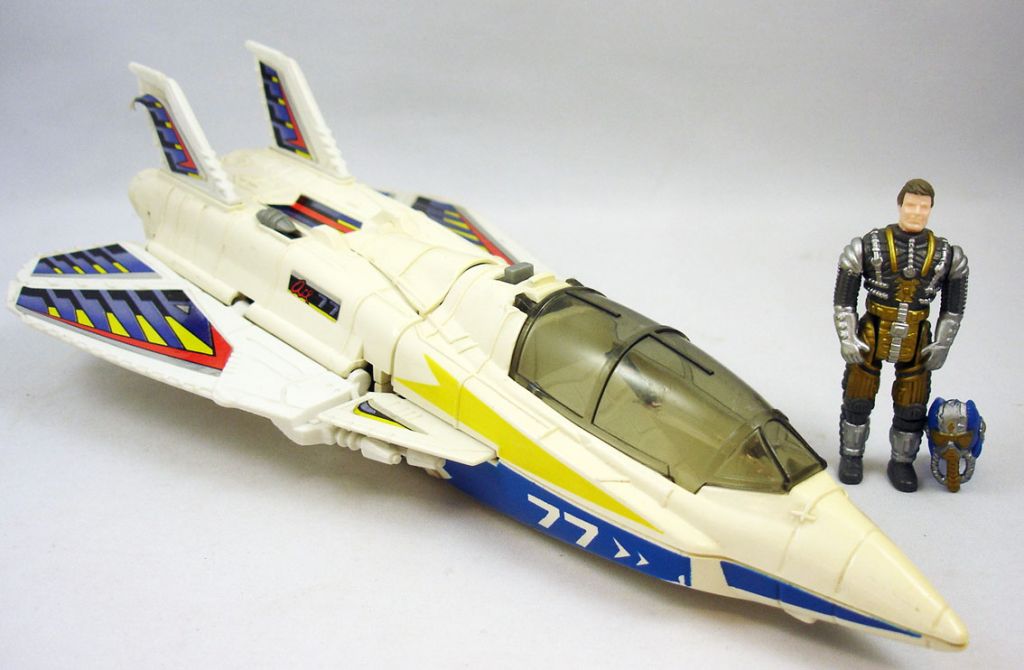 A rare moment of representation during the 80s, Ace Riker is a Cherokee Indian NASA test pilot who decided to spend his peaceful retirement working as a M.A.S.K. agent and hardware store owner. While he only showed up for a scant number of episodes—seven, to be precise—his skills in the air are still impressive to watch every time.
"Chief" Nevada Rushmore
Well, for every Ace Riker there has to be a Nevada Rushmore: a stereotypical Native American character. He appears in only five episodes and is a childhood friend of Matt Trakker. Unlike the other characters, he has no special abilities mentioned. To hammer home the point, Nevada speaks in broken English—proving that after all, this is the 80s.
Ali "Lightning" Bombay
An immigrant from Kandukar, India, Ali Bombay is a motorcycle racer when he's not fighting alongside the M.A.S.K. team. He's a philosophical man whose intentions are unknown—to us, he just appears as a loyal and dedicated member of the M.A.S.K. agency.
Boris "The Czar" Bushkin
The final M.A.S.K. agent introduced, Boris Bushkin was born in the Soviet Union and speaks with a thick Russian accent. He was a former V.E.N.O.M. agent, but he ended up finding the light and defecting to M.A.S.K. Good on him!
V.E.N.O.M. (Vicious Evil Network of Mayhem)
Miles "Wolf" Mayhem
The leader of V.E.N.O.M., Miles is the supervillain equivalent of a bad ex. He originally was a co-founder of M.A.S.K. and one of Matt's friends, but his desire for power caused him to kill Matt's brother, steal M.A.S.K. technology, and create his organization dedicated to stealing, destroying, and general bad crimes.
Sly "Wrecker" Rax
Sly Rax is a familiar character: he wants to overthrow Mayhem as the leader of V.E.N.O.M. but is too lazy, up to the point of napping on the job, and too unlikeable to match his ambitions. Even animals don't enjoy Rax, as they frequently attack him. At least he has some cool shades.
Cliff "Blaster" Dagger
Cliff's name is a little funny, as he's not exactly the sharpest Dagger in the shed. A convicted arsonist, demolitions expert, and all-around tough dude, Cliff is always useful for destroying things… and not much else. He wears an eye patch and a red beanie to help solidify his grunt look. No one even laughs at his jokes or puns!
Vanessa "Ice Queen" Warfield
Vanessa is the only female agent in V.E.N.O.M., but it's not because of her stunning and voluminous red mullet. Her skills lie in espionage, specifically infiltration and sabotage. She'll use everything in her arsenal to fight hard and dirty, aggressively going after her targets. Although she taunts and teases both foe and friend alike, she does have a softer side for her trained ravens.
Bruno "Mad Dog" Sheppard
Bruno is one bad, mad dog. A hand-to-hand specialist and convicted kidnapper, he is one of the toughest and most dangerous agents V.E.N.O.M. has. He's also surprisingly good at disguising himself, despite his flashy appearance comprised of a red mohawk, tattoos, and scary eyebrows. Luckily for M.A.S.K., Bruno isn't single-mindedly focused on fighting just them—he'll even attack his teammates if provoked enough!
Nash "Goon" Gorey
When first looking at Nash Gorey, you might expect him to be an average businessman-type character. And in a way, he is—as in, he is the simpering yes man to his corporate boss, Miles Mayhem. A computer hacker with incredible intelligence, Nash gets to stick around V.E.N.O.M. because of his incredible mental skills despite his lack of physical ones.
Lester "The Lizard" Sludge
A smarmy dude with a tubular 80s look, Lester is certainly memorable. He's the guy that almost succeeded in killing Matt Trakker in season two… and he has a particular witch-like cackle. He claims to have been born and raised in a swamp, so who knows!
Floyd "Birdman" Malloy
Floyd Malloy has turned his life around. Previously, he was the reckless but skilled leader of a biker gang with the ability to forge almost anything. Now, he's a changed man: he forges for V.E.N.O.M. instead. Dangerous, sneaky, and cunning, Floyd is certainly all the more dangerous now with the M.A.S.K. technology given to him by V.E.N.O.M.
Maximus "Maxie" Mayhem
Despite being the leader of V.E.N.O.M.'s literal twin brother, Maximus only seven times in the entire series, during the second season of the show. He helps drive Buzzard, the formula one race car that splits into three vehicles. He's weak-willed compared to Miles, which explains why he keeps getting wrangled into rigged races.
Locations
Boulder Hill
Boulder Hill is the M.A.S.K. team's headquarters and it also came available as a playset, ala the Barbie Dream House. In the animated series, it's located in Nevada, where Buddie Hawks is the only permanent staff available on campus 24/7. Boulder Hill not only contains all the M.A.S.K. vehicles but can also transform itself into an armed fortress.
Playsets
Laser Command
Although Laser Command was never featured in the show, this playset came in two parts: as a MASK packing crate that opened up to the aerial attack vehicle Hornet with a Matt Tracker figure with the Lasertron mask, and a VENOM truck that would explode when shot by the beams Hornet has. It comes with a Miles Mayhem action figure, but unfortunately no new mask.
In Conclusion
In MASK's first release, MASK 1985, we learned many things as 80s children, even if the MASK franchise doesn't stick out of the 80s when compared to other Hasbro franchises. Like, transforming cars are always a win. Or that change is possible from everyone to everything, including to and from Formula One racing cars.
Just remember: "Illusion is the ultimate weapon."
The photos used in this article are courtesy of https://www.lulu-berlu.com/ which are all used with permission from the site owner.